America and the entire world are anxious to put the Covid-19 pandemic behind us. After a treacherous 2020, there was cause for optimism at the end of the year as a vaccine emerged and case counts started decreasing. A return to normalcy was upon us, or so we thought.
Even prior to new concerns with the Delta variant and a renewed increase in case counts, businesses were feeling the long-term effects of the global pandemic. Factory closures, unrelated natural disasters, and government influence began causing international shortages in everything from labor to microchips needed to produce vehicles and electronics, to building materials.
Basic economics tells you that reduced supply increases demand and increased demand raises prices. As of the end of October, the United States inflation rate hit a 31-year high. Register Roofing, like other businesses and individuals, is feeling this impact. As a leader in commercial roofing, we pay close attention to what is happening in our industry and remain agile in making the best decisions possible to protect our business while protecting the interests of our valued customers. We learned the uncertainty was coming and immediately began doing our homework and making preparations.
After relatively flat costs from 2017-2020, virtually all commercial roofing materials have seen unprecedented price increases in 2021. Increases are expected to continue in almost every category through the first quarter of 2022.
Here is what we have seen from January 2021 to October 2021:
Insulation - 60% increase

Roof Membrane - 35% increase

Fasteners - 220% increase

Adhesives - 85% increase

Lumber - 70% increase, approximately 300% increase in June
In addition to soaring prices, product availability has been equally impacted. Pre-pandemic, a standard commercial project would take roughly two weeks to deliver after order placement. Currently, insulation, fastener, and roof membrane lead times are estimated to ship nine months after order.
Our process of navigating these issues as seamlessly as possible revolves around understanding, preparation, and transparency.
We first had to fully understand the root causes of the problem in order to determine the proper steps to combat it. Covid-19 would be a simple answer, but there are actually four major issues directly impacting the roofing industry, some pandemic related, some not.
What Is Causing The Global Supply Chain Constraints?
Raw Materials Shortage: This applies across the roofing industry, but we are particularly feeling it with roofing insulation. A basic chemical in the process of making insulation, MDI, is primarily made in Asia and the factories that manufacture it experienced prolonged shutdowns at the height of the pandemic. Once stock supplies of MDI were depleted it was completely unavailable until factories reopened. Factories have reopened, but their supply chain is also interrupted and they cannot get the materials they need quickly enough to keep up with demand. This is just one example of one vital roofing construction component.

Soaring Demand: At the height of the pandemic, construction projects in many states were shut down as building was deemed non-essential. The jobs in progress in these areas were halted and no new projects could be started. It was deemed safe to resume construction in the winter months but most states have climates that are too harsh to build in. Around March of 2021, everyone was able to get back into the full swing of things. Contractors in Florida and Texas, where the work never stopped, were now competing with pent-up demand for projects that northern contractors were resuming. Items as common as roofing fasteners became hard to come by as nationwide need picked up at record rates.

Transportation: In some cases product was available, but it couldn't get where it needed to be. Domestically produced goods required truck drivers for delivery and a shortage in that industry created pileups at the factory. Many international goods were left to wait offshore while union longshoremen negotiated safety concerns and other terms before they could be offloaded. In March, a ship ran aground in the Suez Canal disrupting the flow of goods between Asia and the Western Hemisphere. Raw and manufactured goods were held up for days creating another kink in an already fragile supply chain.

Natural Disasters: The unprecedented Texas ice storms in February of 2021 created another major unexpected disruption in roofing materials. Texas' generally warm climate is perfect for manufacturing the adhesives we use to affix roofs to buildings. If this material freezes it loses its composition and becomes useless. The unusual weather destroyed a mass quantity of finished product that was on the shelf and ready for distribution. The raw materials used to make the product were also destabilized by the freeze creating additional problems when it came to replacing the product that was lost.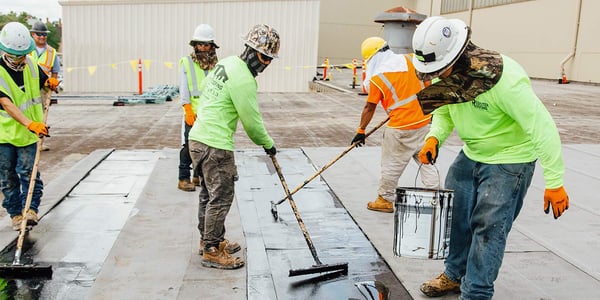 What Is Register Roofing Doing?
As soon as we sensed supply chain issues, Register Roofing went to work protecting ourselves and our customers. We had to be able to complete our existing contracts and be positioned to take on additional work supporting new and long-term partnerships.

The first thing we did was locate the products we would need and purchase them for current and future use. Given our scale, Register Roofing has a large warehouse and plenty of storage to accommodate consumables like adhesives and fasteners.

We realized that it was going to take longer - six months or more in many cases - to receive all of the materials we needed. We started poring over every upcoming project, making sure our orders were placed and we were in line to get the materials we needed. We pride ourselves on completing projects on or ahead of schedule, and we have continued to focus on that goal regardless of the supply chain issues.

We have worked closely with our supplier partners from day one. The relationships we have cultivated with our many vendors including suppliers like ABC Supply and CRS Supply have been invaluable. Due to our history, this supplier has Register Roofing on a shortlist of two companies that they'll supply high-demand products to. They let us purchase on future jobs and hold our orders in a portion of their warehouse. This trusting partnership has been built over years of mutual respect. This relationship has a direct impact on our client's success.
How Are Clients Impacted?
By educating ourselves and getting up to speed on the supply challenges that lie ahead, Register Roofing has been able to pivot quickly and minimize the impacts of this global issue on our customers. Acquiring supplies to cover our contracts for the foreseeable future enabled us to mitigate the rising costs of most, if not all, roofing materials in the short term. Leveraging the supplier relationships we have cultivated across our decades in the commercial roofing industry was instrumental.

We will always charge a fair price for our services and avoid passing rising costs along to our customers wherever possible. Register Roofing must acknowledge that we are in the midst of a global supply chain crisis that is outside of our control. We commit to transparency throughout the bidding and construction process. We are estimating projects that are to be completed six months out based on pricing that is only guaranteed by our suppliers for thirty days. Coupling this with rising costs of basic operations including vehicles, fuel, and insurance makes estimating very challenging.

Register Roofing will not hide behind these issues to raise prices just because we can. We are committed to honoring our estimates unless there happens to be a very extreme unforeseen circumstance. Our team will continually provide frank communications on what the challenges are, and make sure our clients understand all of the challenges and outside pressures impacting their job from start to finish.

Over our 40 years in the commercial roofing industry, Register Roofing has seen similar issues arise in the supply chain. While none were quite this severe, they were all resolved in due time, just as this one will be. We've learned quite a few lessons dealing with these interruptions in the past. The most important one is that if you treat your customers and vendors with fairness, transparency, and integrity, we will all weather this storm together and come out on the other side stronger for having stuck together in the face of uncertainty.

If you need a roofing partner with the foresight, resources, and a commitment to seamless customer service regardless of circumstance, please contact Register Roofing.