Register Roofing | Jul 26, 2021 4:35:06 PM
---
A roof is one of the most vital parts of a commercial building. It protects the structure against water intrusion and other environmental hazards. It also provides a critical insulation layer and can be an essential part of the ventilation and mechanical systems depending on roof style. There are many different types of commercial roofs. A qualified commercial roofing contractor can work with you to ensure you choose the proper roof for your facility. Once you choose your roof, it is crucial to maintain and protect it.
It is difficult to even choose a qualified commercial roofer without understanding the terms used in the trade. Using our knowledge and experience and a few other resources, Register Roofing has created this guide to help you know what commercial roofing is all about.
What Is Commercial Roofing?
Commercial Roofing falls under Division 07 of the Construction Specifications Institute's Master Format. This division relates specifically to thermal and moisture protection - the primary purpose of a commercial roof. Commercial roofing systems fall under Subdivision 07 40. These standards are defined to simplify your bidding process, and the terms covered in 07 40 will be what we address specifically.
It may seem that there would not be much difference between the roof on your home and the roofing system on a commercial building, but this is definitely not the case. Both serve the same primary purpose, protecting property, but otherwise, they are very different in fabrication, material, and installation. The asphalt shingles or concrete tiles used on a residential roof will not provide the reliability and durability a commercial roofing system requires.
Because of the complexities of commercial roofing systems, sourcing a skilled, reputable commercial roofing contractor who can consult on your project is invaluable.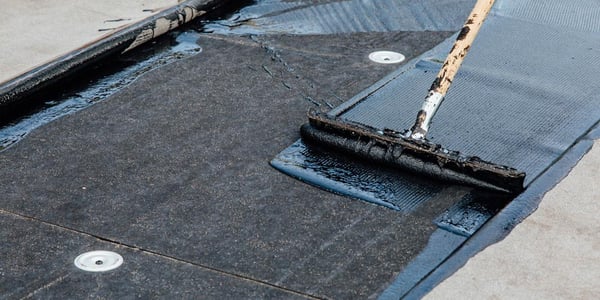 Types of Commercial Roofing
Modified Bitumen
Modified Bitumen is the most common commercial roof type. This roofing system is the modern take on the traditional built-up roof, also known as a BUR membrane roof. Bitumen is a fancy word for asphalt. Roofers add the bitumen in piles along with tar and reinforced roof fabrics. The modified bitumen roof offers exceptional protection, versatility, and durability while remaining one of the best values in commercial roofing.
Single Ply
Single ply commercial roofing systems are gaining more popularity amongst property managers, commercial building owners, and architects for their protective properties and potentially low cost. Single ply roofing materials can be applied directly to the bed of the roof. Assuming quality installation, single-ply commercial roofing systems provide strong water extrusion while still providing the versatility commercial buildings need to allow for drainage and other mechanical building needs.
Coatings
If you are the owner or property manager of a commercial building, repair or replacement will be the question when taking a hard look at your commercial roof. Commercial roof coatings can help you put off this conversation longer. There are multiple types of commercial roof coatings available, including silicone, acrylic, and polyurethane. Regardless of material choice, commercial roof coatings have many benefits once installed. They will eliminate leaks almost immediately.
Additionally, the reflective properties of the material used will increase the energy efficiency of your building. Commercial roof coatings are also relatively easy to apply, which means you can maximize the protection of your building against the elements more quickly.
Finally, a roof coating system is typically tax-deductible in the tax year that it's installed.
Metal Roofing
Metal roofs are beautiful and very functional on a commercial building or multi-family residential property. The versatility of metal commercial roofing systems makes it a viable solution for low-slope and steep-slope roofing applications. The beauty and protection of commercial metal roofs make the solution a trendy choice for architects, commercial building owners, and property managers.
Commercial metal roofing provides various options, including a wide array of colors and materials ranging from aluminum to copper. Commercial metal roofing systems are a popular choice when re-roofing too. A metal roofing system can usually be installed right over an existing roof without removing it. This saves time, reduces landfill waste, and ensures your building will be protected from the elements quickly.
Roof Insulation
Roof insulation is a crucial component of any commercial roofing system. The insulation in your building increases your energy efficiency and also helps your roof protect against water intrusion. Choosing the proper roof insulation as part of your commercial roofing system has several secondary benefits as well. Certain insulations are more fire-resistant than others so that you can increase the fire rating of your building and lower insurance costs. The right commercial roofing insulation provides a better user experience with your commercial building by providing humidity control, reducing internal condensation, and better noise reduction and acoustic performance.
Finally, commercial roofing insulation will prolong the life of your roof. Maintaining a constant temperature will limit the expansion and contraction of your roof's surface, preventing wear and tear.
Steep Slope
As the name implies, a steep-slope commercial roofing system applies to the pitch of the roof. The majority of commercial buildings are flat or low-sloped. Architects typically use steep-sloped roofs to make a visual statement or keep a commercial building within local zoning or code requirements.
Steep-slope roofing systems offer many benefits. Several materials can be used for steep-slope commercial roofing from a visual appeal and long-term durability standpoint, including metal, certain single-ply coatings, and traditional asphalt shingles that may seem more at home on a residential roof. Steep-slope roofing systems provide excellent protection against the elements since they displace rain or snow more rapidly by design. Steep slope roofing is typically more costly to install because of the angles and additional risks involved. The visual appeal and weather resistance of a steep-slope commercial roofing system often justifies the extra cost.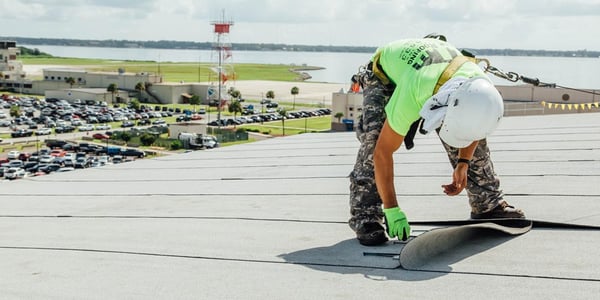 5 Essential Aspects of Commercial Roofing
Commercial Roof Installation and Replacement
A commercial roofing system is one of the most significant investments a business owner, building owner, or property manager will make. Whether performing new construction or updating an existing building, it is vital to partner with a qualified contractor. Experienced commercial roofing companies are uniquely qualified to evaluate your needs and your structure, then make suggestions to ensure you select the perfect roofing system for your needs.
Suppose you are working with an existing building. In that case, an experienced commercial roofing contractor can evaluate the current roof condition and advise whether it is feasible to save it or if replacement is necessary. Choosing a commercial roofing contractor is a big decision. We have suggestions to help you choose the right one here. An established roofing contractor should be objective and not recommend replacement simply because that is the most profitable option.
Register Roofing will provide a thorough report for you and review it line by line, so you are comfortable with our recommendation and your ultimate decision.
Roof Inspection
Roof inspections are vital to prevent potential commercial roof damages. Early detection of potential problems will avoid costly repairs in the future. A thorough inspection starts inside the building and then moves outside to examine specific problem areas and the overall condition of your commercial roofing system. The membrane, seams, decking, vents, flashings, gutters, and downspouts are all evaluated. If you are experiencing specific issues with your commercial roofing system, Register Roofing's inspectors will put their experience to work in tracking down the root cause for you.
Upon completing your commercial roof inspection, you will be provided with a thorough report of the findings. You can use this report to prioritize repairs and ensure your commercial building, manufacturing facility, government institution, or multi-family residential property has the protection it needs to withstand the elements. It is highly recommended that you have an inspection of your commercial roofing system performed annually in the off-season of the most severe weather in your region. A commercial roofing inspection is highly recommended in the Southeast before the Atlantic Hurricane Season, which starts June 1. In the Northeast, an inspection before winter when heavy snows could accumulate on your commercial roof would make the most sense.
Maintenance
Regular, thorough preventative maintenance of your commercial roof will extend its useful life and save you money by avoiding extensive repairs. Regular maintenance is required to maintain the manufacturer's warranty on your commercial roofing system in many cases. If there is a material defect, the manufacturer will require preventative maintenance documentation to process your claim. The amount of maintenance needed for a commercial roofing system varies by the type of commercial roof installed.
Register Roofing is familiar with virtually every roofing type from almost every commercial roofing product manufacturer. We will be happy to consult with you and ensure you keep your commercial roofing system on its recommended, or required, maintenance schedule. Give us a call.
Your commercial roofing system is a significant investment. Ensure you receive maximum return on it and keep your building safe by having a professional perform regular maintenance like clearing debris, treating leaks, tears, or water damage, repairing flashings. Preventive maintenance is a cost-effective way to protect your roofing system.
Repair
Even the most durable, perfectly installed commercial roofing systems will require repair. Your roof's exposure to the elements and impacts from falling debris practically ensures that it will have trouble from time to time. Some repairs require immediate attention, and others can be scheduled. You must be partnered with a commercial roofing contractor with the personnel and resources to accommodate both types of repairs. If you find yourself in an emergency, the last thing you want to do is Google "emergency commercial roof repair" and have a stranger come to your building ready to charge an exorbitant rate to get your roof back in shape.
Register Roofing has eight full-time emergency response teams on standby to address rapid turnaround commercial roofing repairs. We will provide all roof repair costs upfront and promise to perform every job at a fair price without taking advantage of your situation.
Metal Products
Your commercial roofing system makes your building more energy-efficient. It protects the structural integrity of your manufacturing facility, government institution, commercial building, or multi-family residential development against the elements. Commercial roofing metal products protect your commercial roof.
Roof sheet metal flashings, chimney caps, louvers, door hoods, roof curbs, and curb caps play a vital role in ensuring that your commercial roof has a maximum defense against the elements and general wear. Since these metal products play such a crucial role in the overall purpose of your commercial roofing system, it is highly recommended that you partner with a contractor like Register Roofing, who has the capacity and capability to fabricate the metal elements required for your roof. This will save you time and money at installation and do the same when maintaining your commercial roofing system.
How Much Does a Commercial Roof Cost?
The cost of a commercial roofing system will vary by size, type of roof, and application. Register Roofing's bidding experts use a precise formula that multiplies a standard price by the square footage of the commercial system you need to provide a fair and accurate estimate. A commercial roofing system is a costly investment for a building owner or property manager, but partnering with the right roofing contractor will provide a great return on that investment in terms of durability and reliability.
How Long Will My Commercial Roof Last?
Typically, a commercial roofing system should last 15-30+ years. Many factors will determine the ultimate lifespan of your commercial roof. The initial quality of installation is essential. Additional elements, including the type of roof and how well it is maintained, will also play a key role in extending the time your roofing system remains a viable protector of your building, manufacturing facility, government institution, or multi-family property.
Preventative maintenance programs such as the one offered by Register Roofing can extend the life expectancy of your roofing system and make sure your roof meets the manufacturer's warranty requirements.
Commercial Roofing In The Southeast
Register Roofing is the go-to contractor for building owners and property managers throughout the Southeast if you require a new commercial roof, preventative maintenance, or repair. We have an established history of quality work performed on time and within budget for over 40 years.