As the world has endured and recovered from a pandemic over the last few years, there has been instability and uncertainty rippling throughout the commercial roofing industry. As is often the case, adversity has proven to be a breeding ground for opportunity. Register Roofing has a record number of jobs planned over the next nine months. Many of our colleagues are saying the same thing.

A full schedule is always a good thing. All signs point to an easing of many of the industry's market challenges, making it even better. There will be new and different challenges, but considering what we have just overcome, there is no reason why 2023 should not be a strong year for Register Roofing and the commercial roofing industry in general. This outlook will examine the potential factors that could impact the industry in the coming year and what Register Roofing is doing to prepare.
Demand Remains High
The events of the last few years didn't cool the need for commercial roofing; they merely made it more challenging to handle the volume of work that was being requested. Register Roofing was able to lean on our reputation and strong partnerships to carry through, but there were still specific projects we could not fulfill. Where we could confidently schedule 3 months out in the past, we had to forecast nine months into the future to ensure we had materials on hand.

This is a nationwide trend, according to Associated Building and Contractors' Construction Backlog Indicator, which jumped to 9.2 months in November 2022, its highest level since 2019. (Commercial, Institutional, and Health Care Construction Drive ABC's Backlog Indicator to Highest Level Since Q2 2019 | News Releases, 2022). Accordingly, Register Roofing has a considerable pipeline through the first three quarters of 2023. More importantly, we have increased flexibility to take on additional projects, which is vital since the economy in Northeast Florida and surrounding regions is the strongest it has ever been.

Register Roofing is finding opportunities on several fronts. We are currently bidding on projects for many companies that had previously allocated money for new construction but were waiting to put shovels in the dirt because they wanted to see how the challenges contractors faced played out. This same rationale has impacted our second greatest opportunity; roof replacements. Within the last twelve months, corporations have earmarked money for large-scale facilities improvement projects, but due to the volatility of the market, they've decided to focus on roof maintenance instead of roof replacement. Now that pricing has stabilized, there will be numerous pre-approved projects for Register Roofing to add to our pipeline. Finally, the demand for maintenance and repair is still increasing. The most prudent companies are now prepared to increase focus on their facilities as they begin to share the same optimism on commercial construction stability that established contractors do.

Supply Chain Issues Are Improving
Knowing material pricing and lead times definitely contribute to optimism for the future, particularly as we look toward 2023.
We have previously documented several factors that contributed to materials scarcity over the last 12-18 months. These included global issues like a lack of raw materials, a need for shipping containers, and a physical blockage in the Suez Canal impacting shipping routes. Domestically there were post-COVID labor shortages and factory closures that created additional challenges. As we stand, virtually every one of these factors has been addressed, and the result is undoubtedly good for contractors, building owners, and property managers.

Competition amongst manufacturers is heating up, and the number of channels we can obtain materials through is widening. Though we are still not experiencing pre-pandemic levels of service where we could order and receive roofing systems in days or weeks if needed, we are seeing availability loosen to 3-month maximum lead times. This is a massive improvement over the 12-month lead times that had become the standard in 2021 and 2022.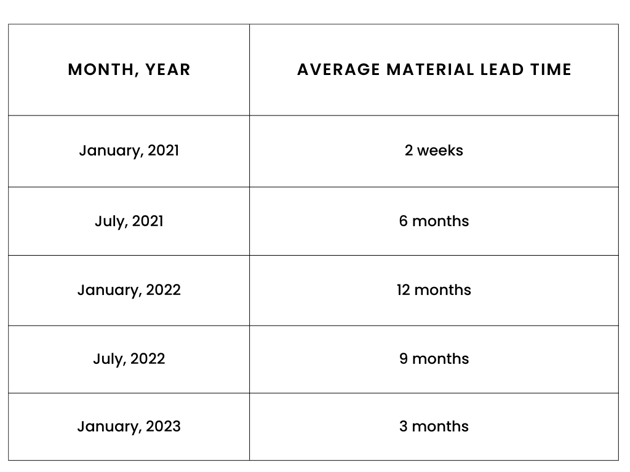 *Data gathered by Register Roofing
As a result, Register Roofing and our colleagues in the industry can forecast more effectively and provide lead times for our customers that are more in line with the timeframes they are expecting. Stability on the supply front should give confidence to anyone waiting to see how the constraints we were experiencing played out before making high-expense decisions on their building.
Materials Pricing Is Stabilizing
Unkinking the supply chain has had a clear impact on materials pricing. Basic economics tells you that pricing will naturally rise if demand is high and supply is low. This was the state of the commercial roofing industry over the last couple of years. However, supply is currently outpacing demand, and we are seeing the positive effects.

Pricing has remained stagnant for the last two quarters after rising from 5-15% in the eight previous quarters. Cyclical demand decreases as construction halts in colder climates is expected to further stabilize pricing, which will be a welcome change. Ancillary costs, like warranty fees, are already falling steeply as competition increases amongst manufacturers, and contractors have increased flexibility in sourcing roofing systems.

Since materials are typically the most costly part of every job, relief in this area benefits contractors and building owners alike. Decreased costs enable Register Roofing and our colleagues to budget projects more effectively and remove a degree of pricing uncertainty that, until recently, has been inherent in the process. Coupled with the increased availability outlined in the previous section, we are as confident as ever in our ability to quote and provide on-time, on-budget services that exceed our customer's expectations.
Things To Watch
If we've learned anything over the last few years, there are always factors outside our control that we must be watchful for. We can always anticipate and prepare even if we cannot control them.

Two potential inhibitors we must consider are the global economy and the cost/availability of labor.

As stated earlier in this piece, the economy in the North Florida region is thriving. Despite this, we continue to hear economists grumble about a recession. Some industry partners in other national markets are already feeling the slowdown. Roof maintenance is a somewhat recession-proof segment of the industry, so Register Roofing will continue to seek out and execute those opportunities as a precaution.

While we cannot control what happens in the global economy, we can continue to be a driver in ours. By remaining committed to pricing jobs fairly, delivering quality workmanship every time, and providing exceptional value to the architects, general contractors, building owners, and property managers who reward us with their business, we are confident that our business will move forward regardless of global economic circumstances.

Labor challenges are not exclusively a construction industry problem; they are felt across every vertical. There are many resources to aid you in addressing this issue if you are experiencing it in your business. For Register Roofing, we believe that if we invest in the recruitment, retention, and development of quality people, the skill, efficiency, safety, and overall quality of our crews. That is how we are combating and will continue to combat labor challenges for the foreseeable future.
Conclusion
We expect to see relief from many of the challenges we have faced over the last two-plus years. Pricing for materials is beginning to normalize, and roofing systems are easier to come by as kinks in the supply chain work themselves out. Developers who were planning to build will continue forward with their plans. Potential clients waiting to see what would happen with overall pricing for new buildings or roof replacements will be pleased with where the market is going.

Considering these factors, Register Roofing is looking ahead to 2023 with an optimism that we haven't felt since the global pandemic infused uncertainty throughout the commercial roofing industry. At the end of the day, we are now regaining full control of our ability to deliver a successful roofing project to meet our client's needs.